Trad weekend presents: World on a String
NEW online workshop series!!
We hope this finds you all well! With all the crazy changes in the world, we have decided to re-imagine Trad Weekend 2021 to keep everyone safe, but still playing music together-apart! We'll be sad not to fiddle and dance with you all in person, but are very excited to be offering a new event called 'World on a String'! A series of 5 workshops throughout Autumn 2020 and Spring 2021 in lieu of Trad Weekend 2021.  
The workshops will all be online (on Zoom) geared for an Intermediate or Advanced level musician. Each workshop day will feature a different theme, and will have 4 different world class fiddlers teaching a 1hr 15min class each, on their style of fiddling. You will learn a new tune, tips & tricks, fiddle history and likely some stories and jokes...from each musician. The fiddlers are the best of the best from around the world, and probably your favourite fiddlers! 
Each workshop day will be $65 CAD (for the 4 sessions), and will include a link to download a recording of the tunes you learned, and the sheet music. If the time zone/schedule doesn't work for you or you've missed a workshop that passed, you can still register and let us know, and we will send you the video recording of the class(es) in that workshop, for you to watch on your own time. You must register separately for each workshop day. More teachers will be added soon!
Workshop #5: April 17, 2021 -- Québécois Fiddling 
Featuring: *all times are in PST (Victoria, BC) so check your time zone! (+3 EST, +4 AST, +8 UK/IRL)
9-10:15am : Stéphanie Lépine
10:30-11:45am: Pascal Gemme
12:30-1:45pm: Stéphanie Labbé
2-3:15pm: David Boulanger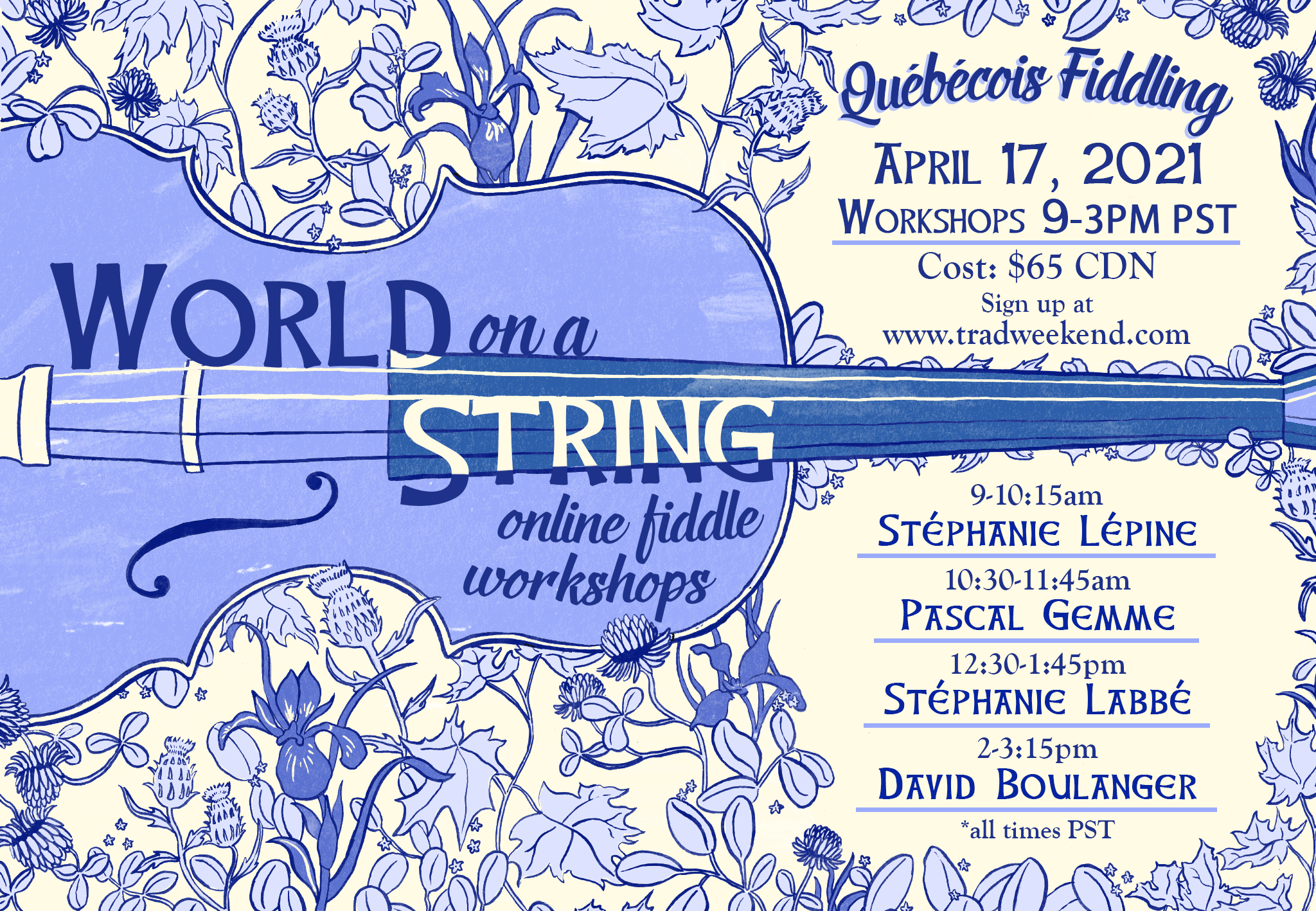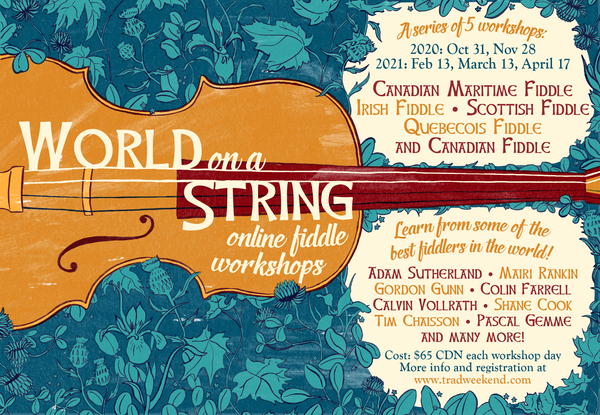 ---
Workshop #1: October 31, 2020 -- Maritime Fiddling  
Feauturing: Tim Chaisson - PEI, Mairi Rankin - NS, Emilia Bartellas - NFLD, Troy MacGillivray - NS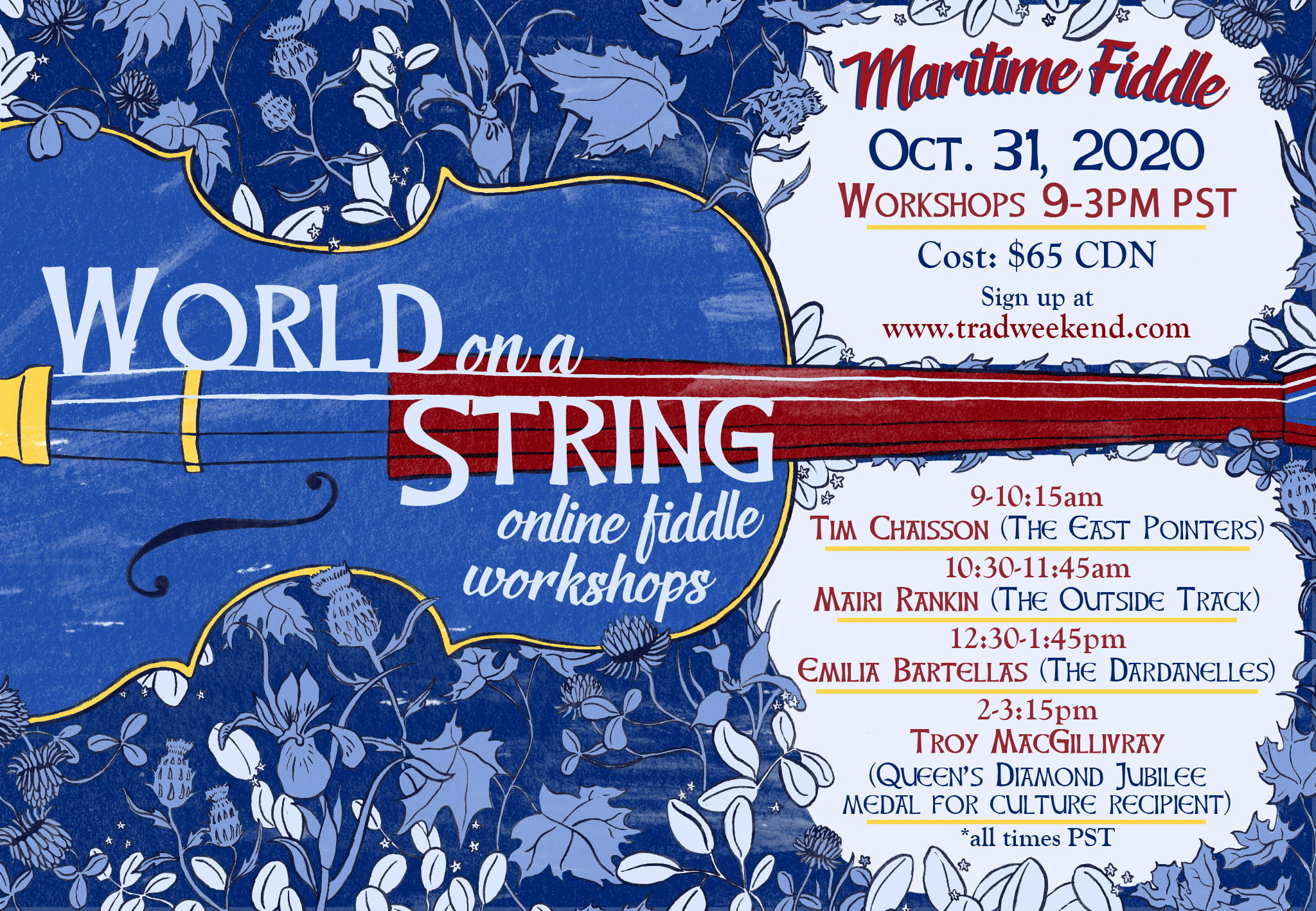 Workshop #2: Nov 28, 2020 -- Irish Fiddling 
Featuring: Mairéad Ní Mhaonaigh - County Donegal, Colin Farrell - Co. Galway/Manchester, Tara Breen - Co. Clare, Aidan O'Donnell - Co. Donegal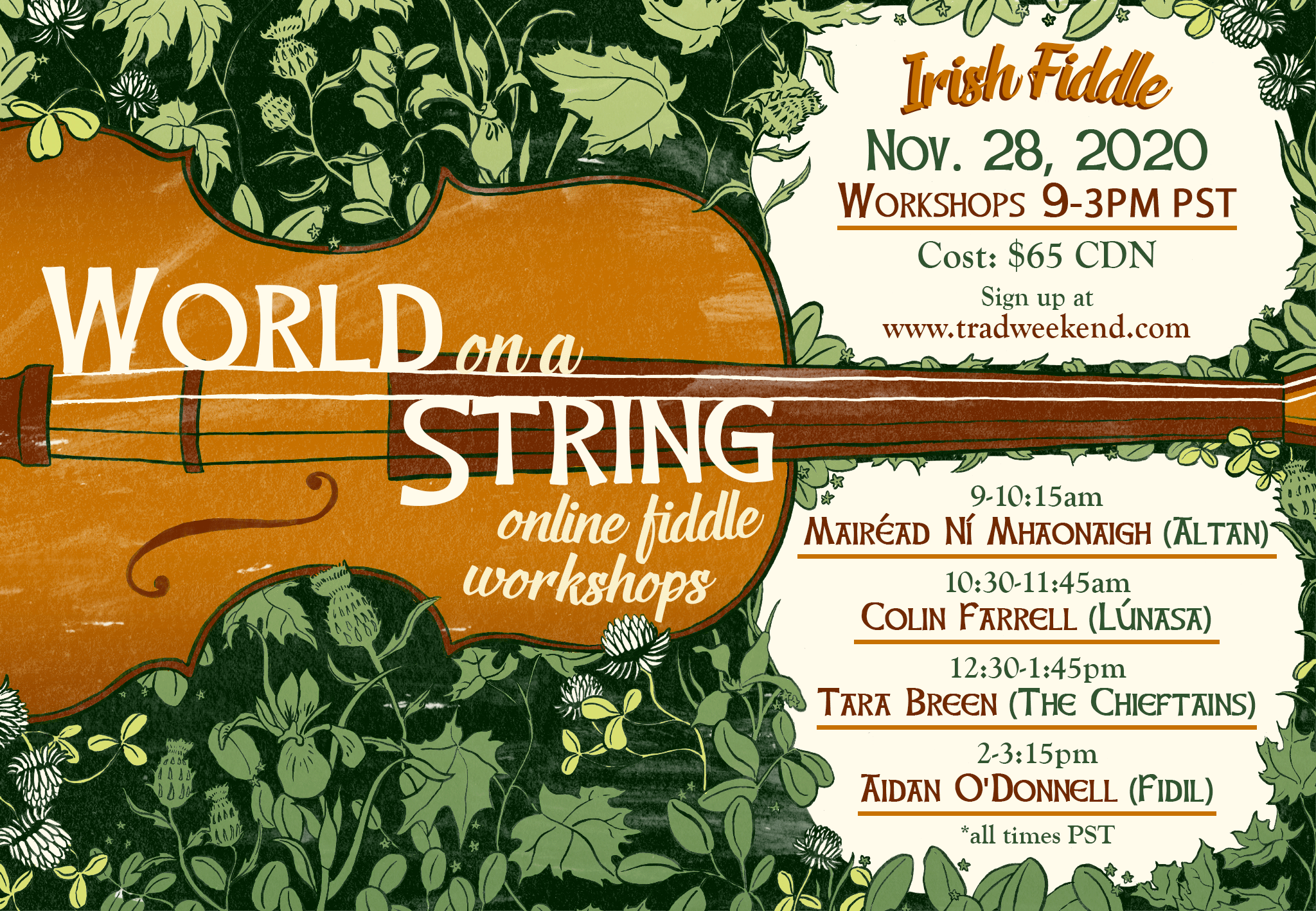 Workshop #3: Feb 13, 2021 -- Scottish Fiddling 
Featuring: Gordon Gunn - Wick, Adam Sutherland - Glasgow, Catriona MacDonald - Shetland, Louise Bichan - Orkney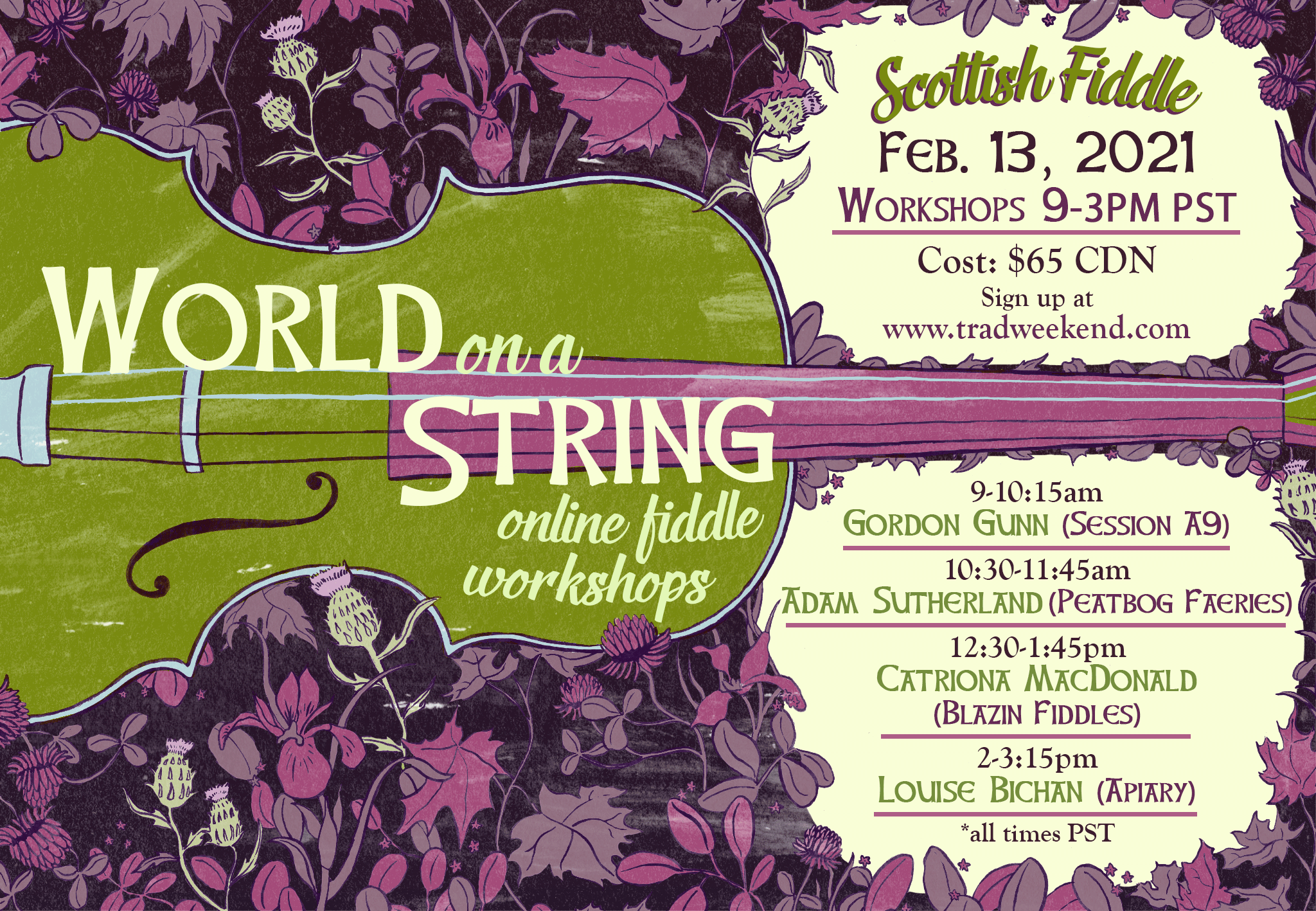 Workshop #4: March 13, 2021 -- Canadian Fiddling 
Featuring: Stacey Read - New Brunswick, Calvin Vollrath - Alberta, Shane Cook - Ontario, Patti Kusturok - Manitoba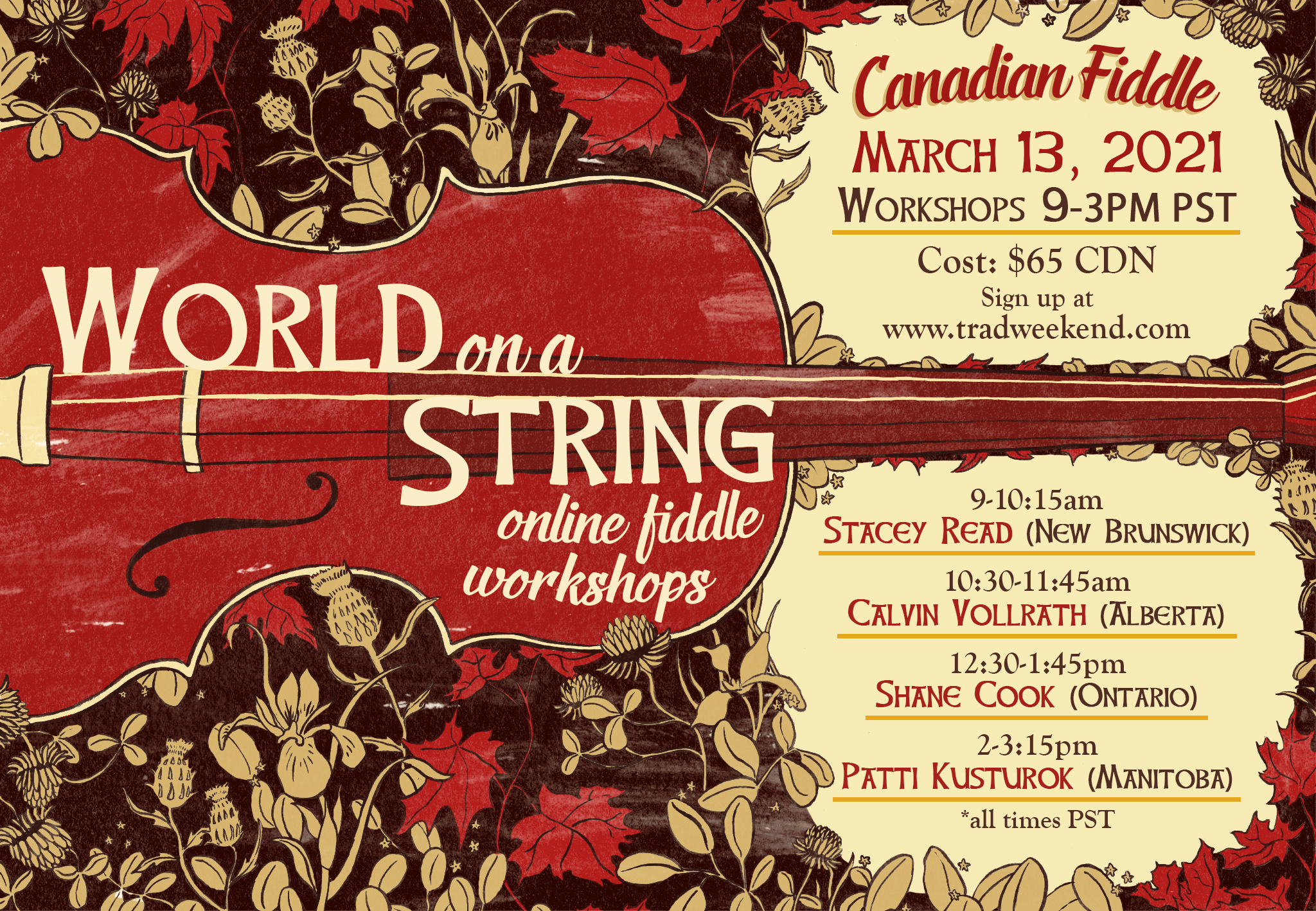 *Thanks to everyone who came to these workshops! We had a blast and learned so many new tunes and tricks...and heard amazing stories!*
2nd Annual Trad Weekend: Feb 14-15, 2020
Founded by Juno award winning fiddler, Ivonne Hernandez, Victoria Trad Weekend has been a massive success. This annual festival is held the 2nd weekend of February every year. The festival features the best trad musicians in Canada and abroad, in all different styles of folk music.
The weekend starts with a concert on the Friday night by the featured musicians. On Saturday, there are workshops for all levels of fiddling as well as guitar, mandolin, banjo, singing, step dancing and trad band, finishing with an everyone welcome jam before dinner. Saturday evening is party night! Bring your dancing shoes to the family dance, with an amazing caller and music by the teachers! It truly is a wonderful weekend you won't forget!